Hace 3 años desde cuando fui a Colombia por la primera vez. Fue el fin del Noviembre de 2010. Aun que había tomado dos clases del idioma español en mi universidad, no lo hablaba o entendía. Fui allá para hacer una presentación del teatro como un miembro del grupo danza Leimay y nos quedamos por una semana. Me acuerdo que fue en el hotel donde nos quedamos que yo le encontré por la primera vez a Jaime Garnica, el papá de Ximena. 
It's been 3 years since I went to Colombia for the first time. We went there for the performance of Leimay, led by Ximena Garnica and Shige Moriya. We spent a week in Bogotá in November of 2010. I remember that it was in the hotel we stayed at when I first met him, Jaime Garnica, the father of Ximena.

Becoming/ Leimay / by Ximena Garnica, Shige Moriya/ Dancers: Ximena Garnica, Masanori Asahara, Denisa Musilova, and Miyu Leilani
En el verano del próximo año, yo volví a Bogotá para quedarme por 2 meses para aprender español. Me quedé con Jaime y Edilma, la mamá de Ximena en un apartmento en Bogotá. (Terminé viviendo solamente con mamá por la segunda mitad de mi estancia. Pero esa es otra historia.) Mi familia colombiana me enseñaba español todos los días y yo lo aprendí rapídisimo en estos dos meses.
In the next year I went back to Bogotá to learn Spanish and I stayed there for 2 months. I lived with Ximena's family and they taught me Spanish every single day. We spoke everyday and my Spanish had improved so fast within those two months.
Papà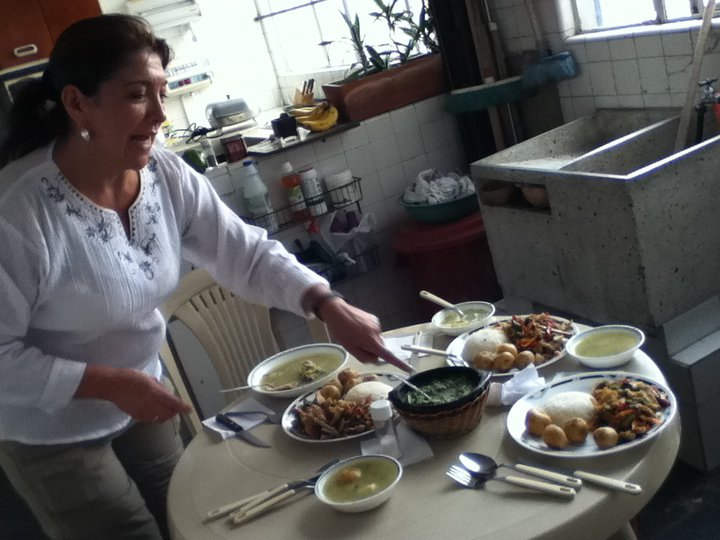 Mamá
Hoy, 26 del noviembre de 2013, fui a la cueva para visitar mi Papá colombiano. El ha quedado aquí en Nueva York para vivir con su hija y ya esta saliendo en 8 días. El hizó un ajiaco para mi. Rocordé mi vida en Colombia y la extraño mucho. Porque voy a salir de Nueva York y planeo vivir en Japón, Burkina Faso y Corea y no voy a volver aquí por 4 años, voy a extrañar mi familia colombiana también. Papá, muchas gracias por todo, te amo siempre, y nos vemos en 4 años.
Today, November 26, 2013, I went to Cave to see him because he has been visiting his daughter in NY and will be leaving in 8 days. He cooked AJIACO for me. I remembered my life in Colombia and missed it so much. Because I will also leave NY and I plan to live in Japan, Burkina Faso, and Korea and won't be back in the Americas for 4 years, I will miss my Colombian family. Papá, I thank you so much for everything. I love you always, and we will see each other in 4 years.
Ajiaco de papá
Jaime y Miyu
Queridísima mi papá colombiano,
de su hija japonesa, 
My dearest Colombian dad,
From your Japanese daughter,